Brains trust. I have a question...
A while ago I acquired a wall mounted half rack and some equipment at a stupid cheap price. It's a commercial unit 3"x3" with huge catch bars etc. Similar to a Rogue half rack but it also has those two mounting bars to the wall. Like this but with really strong beams instead of plates for the base mount...
Currently those two top mounting bars are 18" (450mm) long. I don't think the rack needs to be that far out from the wall. Rack will only be used for basic exercises such as solo squatting, bench press, shoulder press etc. Cutting those top arms down to 12" (300mm) would free up space in the garage, (and allow a car to fit in the garage on the rare occasion that's necessary).
There is this 'Slim Gym' rack (photo below) that comes with 12" mounting arms. It looks like that would work for me. The 12" long mounting bars plus the 3" upright means that the barbell will be 15" (375mm) out from the wall when sitting in the J hooks. Note, my chinup bar can sit out like the slim gym rack. This amount of space from the wall should be plenty for me, I'm not physically tall.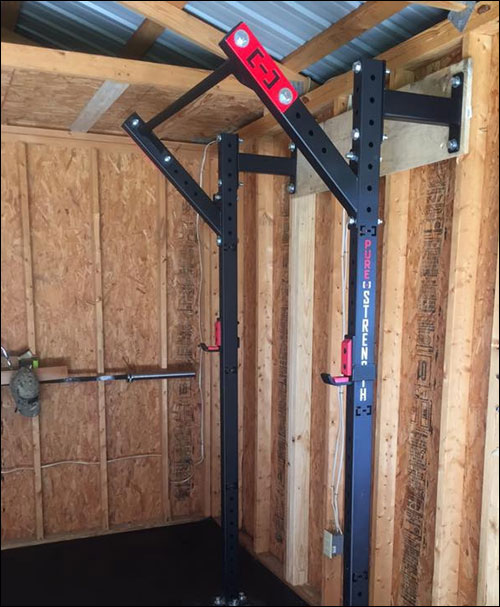 QUESTION:
Do you blokes know of any good reason I'm unaware of to leave it at the 18" (450mm) distance?
cheers.