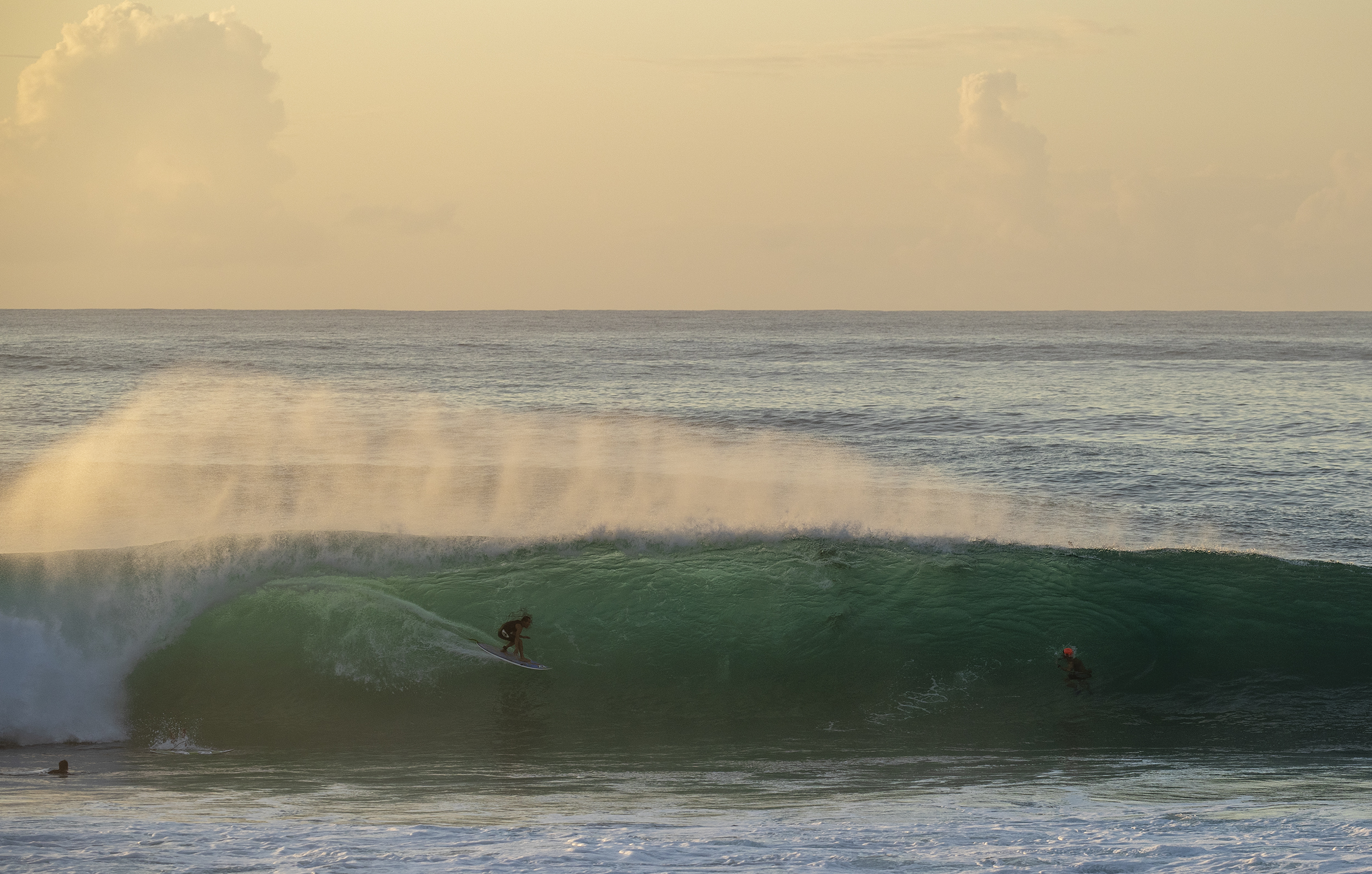 Hawaii's first World Surf Champion passed away, at the age of 55, after suffering a major heart attack and taking himself to the hospital, where he slipped into a coma and died late Friday afternoon.
Above is him surfing last year.
Derek Kaleiki Ho was born in Kailua on Oahu to Chico and Joeine Ho, first cousin to Don Ho. Chico was one of the original Waikiki beach boys, so there was no question his offspring would surf. His older brother Michael was among the first wave of professionals in the mid-'70s, finishing in the Top 16 for 10 straight years.
Derek began surfing at age three and became a fixture at wind-whipped Sandy Beach before graduating to the better spots along the South Shore. While Michael Ho was serious about competition, Derek showed promise, but instead found trouble with a rough crew from Kailua High School. He often landed in police custody for petty thievery and reached a crossroad when placed in a correctional center at age 18. It was either find direction or go to prison.
North Shore godfather Brian Suratt intervened and got Derek to Japan for the 1982 Marui Open. Derek made the semifinals and found his calling — to bring the professional world title to Hawaii.
In 1985, he joined Michael in the Top 16, the first siblings ever to do so. His mastery at the Gotcha Pro, held at his familiar Sandy Beach, wasn't even fair to the other surfers. At Pipeline, he assumed Gerry Lopez's lofty mantle, claiming three Pipe Masters titles and any wave he wanted. He was runner-up to Martin Potter for the world title in 1989 and finished fourth two other years.
By 1993, his career seemed to be winding down. Kelly Slater had arrived on the scene, winning the previous world title and getting better still. Ho was 29 years old and seeded 36th — his lowest ranking since joining the tour. But during the season, he hung tough, not killing it, just staying consistent.
It came down to the final event of the season, at brutal 8-foot Pipe. Seven title contenders still in the hunt — Potter, Slater, Damien Hardman, Dave Macaulay, Rob Machado, Gary Elkerton and Ho. By the semis, it was Elkerton and Ho. Thanks to Ho's fellow Hawaiian Larry Rios, Elkerton went down, and Ho became Hawaii's first male professional champion. A host of great Hawaiian competitors — from Larry Bertlemann to Dane Kealoha to Michael Ho — came up short and hopes were already being heaped on Sunny Garcia, Shane Dorian and Kalani Robb, but it was Ho who came through.